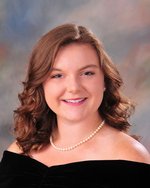 Mikayla Smith
Mikayla Smith- Rotary Student of the Month (September)
Mikayla Smith has been selected as Corinth High School's Rotary Student of the Month for the month of September, 2018. Mikayla is the daughter of Kim and Trista Smith. She is currently ranked first in her class, with a GPA of 4.27 and a QPA of 100.59. With over 320 points on her Cambridge AICE exams, she's earned her Cambridge AICE Diploma with Distinction, the highest available honor within the curriculum offered. She actively holds a 31 on the ACT.
While maintaining her academic standing, Mikayla participates in a number of in-and-out of school activities. She has completed 13 years of classical studies in the violin, beginning at age three at the Corinth Artist Guild. She has been an active member of the CHS band and soccer team for five years, lettering in both. She has served as the Drum Major for both 2017 and 2018 marching seasons and participated in numerous honor bands throughout her career, including being specifically selected for Natchez Honor Band in 2015. Mikayla has served in a number of clubs in her high school career, being most proactive in Fellowship of Christian Athletes (FCA), Interact, and the Writing Club, in which she serves as an officer. Based on her academic standing, Mikayla was later inducted into National Honor Society as well as Mu Alpha Theta. Mikayla has participated in two musical productions within the high school, "The Little Mermaid" and "High School Musical 2: On Stage!", as well as a number of theatrical productions at Corinth Theater Arts and her church. Mikayla and her family are active members at Glendale Baptist Church. Mikayla often participates in youth activities and community outreach with First Baptist Church in FOCUS Student Ministries.
Mikayla has found a number of community projects to be involved with, mainly through Interact Club and NHS. She has participated in the Rotary Christmas Basket Packing, Cookies with Santa at Corinth Elementary School, the Lighthouse Toy Store, and served at the Humane Society Dinner. Outside of school, Mikayla has earned over 100 hours of community service through her church, serving as a Student Leader in both Vacation Bible School and AWANA Student Ministries.
Mikayla has been accepted and plans to attend Mississippi State University following graduation, pursuing a degree in Biological Sciences. She has plans to be an optometrist and further her education, attending Southern College of Optometry after obtaining her undergraduate degree. Aside from a passion of helping others, Mikayla is an avid writer, and has hopes of publishing a novel in the future.