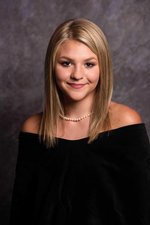 Rachel Grace Carpenter
Rachel Grace Carpenter- Rotary Student of the Month
Rachel Carpenter has been selected as the Corinth High School Rotary Student of the month for November. She is the daughter of Angie and Chuck Carpenter.

At Corinth High School, Rachel is ranked 4th in her class of 120 students. She has a GPA of 4.32, a QPA of 99.42, and a composite ACT score of 33. Rachel will receive her Cambridge AICE Diploma, with Merit, from CHS in June with 270+ AS level points. She was awarded the Cambridge University IGCSE Medallion and was distinguished as a Cambridge University IGCSE Scholar with Merit in 2018. She is also a Wendy's High School Heisman School Winner for 2018.
Rachel is a member of the C-Club, National Honor Society, Mu Alpha Theta Mathematics Honor Society, Future Business Leaders of America, Historical Society, and Fellowship of Christian Athletes. She currently serves as a Captain of the 2018-2019 CHS Academic Team. She is very active in student government, having served as Student Body Treasurer for three years and the Class of 2019 Treasurer her freshman year. Rachel was also voted senior maid by her peers for the 2018 Homecoming Court.
Rachel is a six-year member and four-year varsity letter of the Corinth Lady Warrior soccer team. She was a member of the 2017-2018 Division 2-4A Championship team and was selected as the First Team All-Division Goalkeeper. Rachel set a Corinth High School Women's Soccer record during her junior season for the fewest number of goals allowed within the regular season. Upon the season's end, she received the distinction of "Player of the Year" from her team and coaching staff. She currently serves as a captain for the 2018-2019 team. Rachel is also a three-year member and two-year varsity letter of the CHS Tennis Team. She received the 'Battle Award' for the 2017-2018 season and plays varsity girl's doubles. Rachel has been a Diamond Girl for Corinth Baseball for two years.
Rachel also has a great interest in leadership. During her junior year, Rachel was selected as an Alcorn County Electric delegate for the Electric Cooperatives of Mississippi Youth Tour and was a top 10 finalist for ECM National Youth Council Member in Washington, D.C. She was selected as a council member for the Betterment of Alcorn County Committee and won 2nd place at the Local American Legion Oratorical Contest. As for her sophomore year, Rachel was selected as an Ambassador for CHS at the Hugh O'Brian Youth Leadership Conference at Millsaps College and was an active member of Junior Leadership Alcorn.
Throughout high school, Rachel has demonstrated a passion for giving back to her community. She has been involved in many church related projects with both Oakland Baptist Church and First Baptist Church. She has helped with Oakland's Vacation Bible School as well as serving as a camp counselor for their children's retreat. With First Baptist, Rachel has been involved with the Family Fall Festival. But aside from church, she also gives back to other areas of Corinth. For example, Rachel volunteered as a recreational soccer coach during her sophomore year, coaching Co-Ed U14 team. She also acted as an assistant coach for the Corinth Park league champion team when they competed for the district championship in Oxford, Mississippi. Branching from soccer, she also worked at Corinth High's Schools Little Warrior Tennis Camp as an instructor. Rachel has been involved with other community service ventures, with a few examples being the Humane Society Benefit Dinner, the Lighthouse Christmas store, and the Kiwanis Father/Daughter Ball.
Rachel and her family are members Oakland Baptist Church. She is also an active member of FOCUS youth group of First Baptist Church, Corinth.
Rachel is eager to attend Mississippi State University in the fall of 2019, where she has been accepted into the Shackouls Honors College. While there, she plans to major in Finance with a pre-law minor. Later plans include attending law school in pursuit of a career as a corporate attorney.